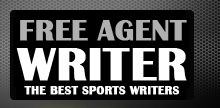 Yankee Addicts
Categories
Featured Sponsors
News published by
March 30, 2011
The New York Jets have improved mightily over the past two seasons. Since ending the days of Eric Mangini as head coach and starting over with Rex Ryan and Mark ...
March 2, 2011
On Monday, the Jets decided to let go of four players from their roster ahead of the potential NFL lockout that's looming. There is a chance that the Jets could resign ...
February 17, 2011
The NFL offseason is well under way, so it's of course time to take a look at the Draft. The Jets have some needs this offseason after missing the Super ...
February 9, 2011
Just two days ago, the Green Bay Packers beat the Pittsburgh Steelers to take the Lombardi trophy back home. They beat the team who beat the Jets to get to ...
February 3, 2011
As we all know, the New York Jets have come as close to reaching the Super Bowl as any team over the past couple of seasons. Each of their last ...
January 17, 2011
Think about what has happened in this postseason for the New York Jets. Sure, they finished the season with 11 wins and weren't the Seattle Seahawks of the AFC, but ...
January 8, 2011
For the second straight season, the Jets are in the playoffs and for the second straight playoff game, they are in Indianapolis to face the Colts. This time, although it's ...
December 20, 2010
The Jets needed to snap their mini two-game losing streak and it wasn't going to be easy facing the Steelers in a city they've never won in. But with a ...
December 15, 2010
The Jets had everything going for them. They were the talk of the town in New York City, for a rare time taking the spotlight away from the New York ...
December 10, 2010
The four-game winning streak for the Jets is over and against the Patriots on Monday night, they looked as bad as possible on all ends of the football. Their offense ...