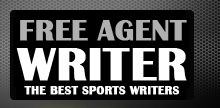 Yankee Addicts
Categories
Featured Sponsors
News published by
July 11, 2015
Cornerback is one of the most important positions in the new defense that Dan Quinn will be running for the Atlanta Falcons in 2015. His defenses are best when they ...
July 11, 2015
In 2014, linebacker could have been considered the weakest part of the Atlanta Falcons defense. They had just one quality linebacker starting while the likes of Joplo Bartu and Prince ...
July 10, 2015
Edge player was the biggest spot that the Atlanta Falcons needed to improve during the 2015 offseason. In 2014, the Falcons were trotting out players at weak-side end and strong-side ...
July 10, 2015
The Atlanta Falcons defense needs to see improvement along the defensive line. Atlanta's interior defensive line positions—strong-side defensive end, nose tackle, under tackle and nickel interior pass-rushers—are going to be ...
June 20, 2015
The Atlanta Falcons have had an extremely eventful offseason, including a new coaching staff, a full draft class, multiple free-agent signings and re-signings and the release of some players that ...
May 23, 2015
Having multiple breakout players is how the Atlanta Falcons are going to have a big turnaround from their 6-10 2014 campaign. They need break outs from multiple players in order ...
May 3, 2015
When the Atlanta Falcons signed Dan Quinn to be their head coach, head-scratchers like Akeem King being drafted in the seventh round were going to happen. The Falcons have a ...
April 25, 2015
One curveball that the Atlanta Falcons could throw into the top of the draft would be taking Pittsburgh offensive tackle T.J. Clemmings at No. 8 overall. The Falcons could reap ...
April 25, 2015
Kansas State's B.J. Finney would be a great fit for the Atlanta Falcons in 2015 and beyond. He may not be an ideal fit for the zone-blocking scheme that Atlanta ...
April 25, 2015
The Atlanta Falcons need a true solution to their starting need at left guard within the zone-blocking scheme that Kyle Shanahan will be running in 2015. Ty Sambrailo will be ...