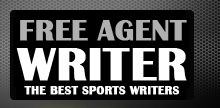 Yankee Addicts
Categories
Featured Sponsors
News published by
January 16, 2017
Quarterback Dak Prescott led the Dallas Cowboys to a 13-3 record, the NFC East championship and the No. 1 seed in the conference after presumed starter Tony Romo suffered a ...
January 16, 2017
Seattle Seahawks cornerback Richard Sherman played with an MCL injury during the 2016 NFL season, limiting him down the stretch.   Continue for updates. NFL Investigating Sherman's Injury Tuesday, Jan. 17 Ian Rapoport of ...
January 16, 2017
There are four teams remaining with Super Bowl dreams this season, and the road to the AFC and NFC Championship Games started on various draft days. In the AFC, the New ...
January 16, 2017
Pittsburgh Steelers wide receiver Antonio Brown gave fans an inside look at his team's locker room after Sunday's 18-16 AFC Divisional Round win over the Kansas City Chiefs. He posted a ...
January 16, 2017
The Kansas City Chiefs appeared to tie Sunday's AFC Divisional Round game against the Pittsburgh Steelers with a two-point conversion in the closing minutes, but it was called back due to ...
January 14, 2017
Bill Musgrave directed one of the best offenses in the NFL in 2016 and caught the eye of the Denver Broncos. Denver announced on Friday that Musgrave will join head coach ...
January 13, 2017
The Tampa Bay Buccaneers will reportedly keep Mike Smith as their defensive coordinator after he helped lead them to a 9-7 record in 2016. Citing a source Thursday, Ian Rapoport of ...
January 9, 2017
The Super Bowl dreams continued for the four victors during the NFL's wild-card round, but they also ended for the four losers. That means the Oakland Raiders, Miami Dolphins, Detroit Lions ...
January 9, 2017
New York Giants wide receiver Odell Beckham Jr. had little impact on Sunday's 38-13 postseason loss to the Green Bay Packers, but he had plenty to say in the aftermath. "You ...
January 5, 2017
All it takes is one quick glance at the playmakers who are set to take the field in the playoffs to understand how important the NFL draft is in the ...