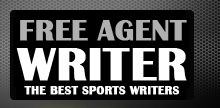 Yankee Addicts
Categories
Featured Sponsors
News published by
June 23, 2010
With time to spare in the NFL offseason, I'll take a look at the top 50 linebackers in the NFL in the modern era. I'm only going to be looking at ...
February 27, 2010
As I am sitting here watching offensive linemen run 40 yard dashes, I'm wondering what the point of it is. When in the NFL will an offensive linemen ever run ...
February 25, 2010
Below is my first full seven round mock draft of the year. Remember that this is pre-combine and also is before the coin flips and compensation selections that are yet ...