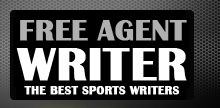 Yankee Addicts
Categories
Featured Sponsors
News published by
August 4, 2013
While Anquan Boldin isn't the same player we remember back in Arizona, he will likely be the top possession receiver in San Francisco. With Michael Crabtree on the shelf, Boldin ...
August 4, 2013
Based on recent ADP results, it's no surprise that the top team defenses came off the board in the 9th round. Both Seattle and San Francisco are worthy top-five selections ...
August 3, 2013
Giovani Bernard and Shane Vereen may not start to begin the year, but both should be capable options if called upon during the season. In fact, expect both to be ...
August 3, 2013
If there is a running back who continues to garner little respect in mock drafts this summer, it's the Denver Broncos' Ronnie Hillman. One of the hotter backfields to watch ...
July 31, 2013
I find it interesting that Stevan Ridley went off the board just behind Alfred Morris in the second round of this 10-team mock draft for standard scoring leagues. While I ...
July 30, 2013
It's a throwback season in fantasy leagues as running backs are dominating the first round. Only Calvin Johnson stood in the way of a running back sweep to open this ...
July 27, 2013
Taking a look at Fantasy Football Calculator's recent Top 150 list for standard leagues for ten team leagues, we have 19 quarterbacks, 51 running backs, 53 wide receivers, 17 tight ...
July 27, 2013
The elite receivers will come off the board in the first three rounds (eight receivers in all). Respectable value is there in Rounds 4 and 5, with 11 receivers going ...
July 2, 2013
Coming out of Boise State, some draftniks felt Doug Martin had the skills required to be a three-down workhorse for an NFL team. Martin has it all, but one ...
July 2, 2013
Pressuring the quarterback wasn't a problem for the St. Louis Rams in 2012 as they tied the Broncos for the league lead in sacks with 52. With the ...