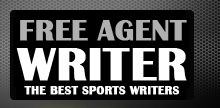 Yankee Addicts
Categories
Featured Sponsors
News published by
October 30, 2015
Passion pervades football both on the field and in the stands, but emotion rarely punctures the sport's stone-faced demeanor. That's what makes the NFL's moving moments all the more powerful. Because ...
April 28, 2015
Philosophers will tell you that identity is a shifting, overdetermined, social construction, but the identity of a football team consists of something slightly more concrete, molded from a combination of ...
January 13, 2015
NFL rivalries between teams persist across decades, fueled even more by the rapid-fire arena of social media chatter and players' Twitter accounts. And when it comes to individual rivalries, whether ...
December 2, 2014
The Super Bowl has become the planet's biggest sporting event, watched by billions of people worldwide and prompting millions of bowls of bean dip to be made in households from ...
September 23, 2014
Not so long ago, the term "professional football player" only described men with gruff demeanors, broken fingers crookedly healed and approximately the same fashion sense as an oil-rig worker; nowadays, NFL stars ...
August 19, 2014
Either due to injury, split duty or mere ineffectiveness, these eight players disappointed fantasy owners in 2013. That means they offer a golden opportunity to produce value on draft day, ...
April 1, 2014
Johnny Manziel stole the show at Texas A&M's pro day March 27, suiting up in full pads and a helmet and getting chased by a guy with a broom simulating ...
November 5, 2013
The Washington Redskins and Minnesota Vikings get three whole days to pop extra-strength Tylenol and prepare for Thursday Night Football.  Both teams have stumbled through the first half of the 2013 season, but ...
June 23, 2012
Last week, the New York Giants tweeted a photo of Justin Tuck's facemask, and the likeness to Shredder, or some such character, struck many around the world of sports as ...
June 9, 2012
The New York Giants announced last week that defensive end Osi Umenyiora had agreed to a restructured contract for the 2012 season.On Monday, he rejoined the team for OTAs (via ...