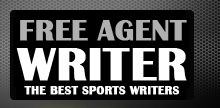 Yankee Addicts
Categories
Featured Sponsors
News published by
May 16, 2012
Call me crazy if you will. My mind must be running on instinct and intuition, as opposed to simple Mathematics 101.If Player A and Player B are selected in the ...
May 8, 2011
2011 NFL Draft: How will Nick Fairley do in his rookie season with the Detroit Lions?The Detroit Lions had a long list of players they were hoping to land with ...
April 26, 2011
2011 NFL Draft: Will Arizona make Blaine Gabbert their quarterback of the future?There might not be a team in this entire draft that is more desperate for a quarterback than ...
April 25, 2011
This 2011 NFL Draft is loaded with talent from top to bottom on the defensive side of the ball.In fact, ESPN's Todd McShay predicts that 21 of the 32 players ...
April 23, 2011
When it comes to being a Detroit Lions fan, one thing is for sure: It's not easy...The Lions have been in the dumpster of the NFC North for well over ...
April 15, 2011
The NFL Draft is only two weeks away. So how are the Vikings' draft day plans looking? The Minnesota Vikings have been one of the most discussed teams this month heading ...
April 14, 2011
With the NFL Draft just over two weeks away, the Lions are finalizing their draft day plans.The Detroit Lions are a team that is on the rise, and this year's ...
April 13, 2011
As the Minnesota Vikings prepare for the NFL Draft, we speculate who might be on their draft radar. The NFL Draft is fast approaching and the Minnesota Vikings are getting ready ...
April 12, 2011
The NFL Draft is fast approaching, and as the big day gets closer the Chicago Bears are eyeing players to add to their NFC North-championship roster. Despite a poor showing in the ...
April 8, 2011
The NFL Draft is rapidly approaching, so what type of moves are the Lions looking to make on draft day? In just three weeks, the Lions will be on the ...