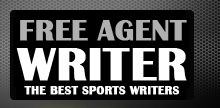 Yankee Addicts
Categories
Featured Sponsors
News published by
July 28, 2010
The epic collapse of the 2009 New York Giants defense is well known. Big Blue went from 5-0 to 8-8 because of a defense that allowed opposing offenses to score 40 ...
July 15, 2010
Tale of the Tape   Matthew Stafford First overall pick by the Detroit Lions, 6'2", 230 pounds, 10 games started, 13 touchdowns, 20 interceptions with a 53.3 completion percentage   Mark Sanchez Fifth overall pick ...
July 14, 2010
The careers of Matt Ryan and Joe Flacco will forever be compared because of their first round pedigrees.  Matthew Thomas Ryan was drafted third overall by the Atlanta Falcons ...
July 7, 2010
Don't be fooled by the recent reports saying the Eagles don't plan on getting rid of Vick.  We all know what happened when they said McNabb would be their starting ...
July 5, 2010
Tale of the Tape: Vince Young "The Comeback Kid" — 6'5", 230 pounds, age 27, drafted by the Tennessee Titans third overall Games started: 39, Record: 26-13, Two Pro Bowls, TD-INT: ...