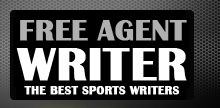 Yankee Addicts
Categories
Featured Sponsors
News published by SeatGeek
September 24, 2010
Much has been said about the Texans' 2-0 start. For three years now, the Texans have been "The Team to Watch." They have been so disappointing as a ...
September 24, 2010
We're back with an overview of how NFL ticket prices have fluctuated as we wrap-up the second week of the season. As promised, here are the matches that fans most looked ...
August 5, 2010
Here at SeatGeek we can't wait for all this training camp drama to come to an end, and for the NFL season to finally arrive. If we hear one more story about ...
July 28, 2010
Terrell Owens finally has a new home. After enduring a summer of irrelevancy and no serious offers, T.O mania took hold this week as rumors abounded that the loud-mouthed ...
June 16, 2010
There are two NFL teams located in the New York metropolitan area—the New York Jets and the New York Giants. Both play in New Jersey. Both are moving into a state-of-the-art ...