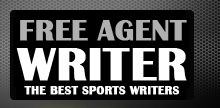 Yankee Addicts
Categories
Featured Sponsors
News published by
July 28, 2012
Hello all...been a while since I've written anything, but rest assured I have kept a wary eye on the many fine articles written about the Detroit Lions.I have found it fascinating ...
October 22, 2011
The San Francisco 49ers handed the Detroit Lions their first loss of the 2010 season.That ain't so bad after six games.  And it's pretty much a miracle that anyone can ...
September 10, 2011
Here we go. On the eve of the 2011 NFL Season, there are many thoughts running through the Beer Thinker's head. Will Matthew Stafford live up to all the hype we Lions ...
September 3, 2011
Hey, everyone! Did ya'll miss me?We took off with some friends on our Harely's, spent a week in Sturgis and then headed to a great little town in Northeast Oregon ...
July 16, 2011
This article is to answer Kyle Gibbons's fine article "Detroit Lions Fans Must Temper Expectations in 2011," written July 11, 2011. Just to clarify, I have always respected Kyle's work. He ...
March 31, 2011
I wanted to write an article before I go on vacation. I also wanted to share some good news in that I am starting a new job that will finally get ...
March 25, 2011
There are times when one just wants to look the other way and not say anything about a touchy subject. For me, the current NFL lockout isn't one of them. First, let ...
March 6, 2011
Off on a different tack than my previous article about cornerbacks, I am not even going to attempt to predict who or where the Detroit Lions will take players. There is ...
February 27, 2011
I am going to attempt a different take on the Detroit Lions' draft needs.  Rather than naming who they should draft, I want to explore just what specifications are needed ...
February 14, 2011
I've been seeing replays of the excellent commercial that was put out by Chrysler that played in the third quarter of the Super Bowl.  It's revised version, with a different ...