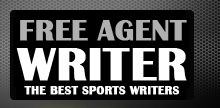 Yankee Addicts
Categories
Featured Sponsors
News published by
March 9, 2010
Here we are, four full seasons after the Seattle Seahawks got robbed of the best guard in football. Most could attribute this as the starting point to the Seahawks' tailspin ...
March 9, 2010
In a somewhat surprising move for a Super Bowl team, the Indianapolis Colts parted ways with starting guard Ryan Lilja today. Lilja has been a fixture on the team with the ...
March 9, 2010
ESPN's Adam Schefter has reported that the rumor has become reality: The Seattle Seahawks have dealt backup quarterback Seneca Wallace to the Cleveland Browns for an undisclosed draft pick. With 11 ...
March 8, 2010
This is good news for the Seattle Seahawks. The Denver Broncos have come out and said that the Cincinnati Bengals are interested in obtaining the dynamic wide receiver. This very well may ...
March 8, 2010
When the National Football Post came out with a report that the Cleveland Browns may be interested in Seattle Seahawks QB Seneca Wallace, it generated a fair amount of ...
March 7, 2010
This is sure to spark some interest amongst Seattle Seahawks fans. According to Gil Brandt of NFL.com, the Seattle Seahawks have an individual workout scheduled with college football legend St. Timmy ...
March 7, 2010
I was extremely disappointed to learn this morning that the Jacksonville Jaguars had locked up former Packers DE Aaron Kampman with a three year contract for around the same annual ...