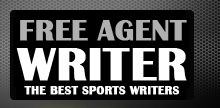 Yankee Addicts
Categories
Featured Sponsors
News published by
September 14, 2010
The Bears' 19-14 win over the visiting Lions on Sunday shouldn't feel like one. Sure, on offense, quarterback Jay Cutler threw for a bunch of yards (372) and connected very nicely ...
July 26, 2010
Remember the days when defense won championships? When teams set up the pass with the run? When passing was mainly a 3rd-and-long kind of thing? Welcome to the new Day of ...
June 28, 2010
In Israel Idonije's five seasons with the Chicago Bears, his impact on the field has been small. But off the field, the defensive lineman's influence is bigger than any tackle ...
June 27, 2010
As it turns out, former Oregon running back LeGarrette Blount caused more damage to himself after he punched Boise State's Byron Hout square in the jaw last season. The right cross ...
June 24, 2010
If you visit St. Louis Rams running back Steven Jackson's website, sj39.com, you can watch in wonder as Jackson leg presses 225 pounds 90 times in two minutes. In between all the snarls ...
June 12, 2010
Between Matt Forte and a hopeful turn-around year stands Chicago's new offensive coordinator, Mike Martz. Or at least, that's what it would seem. The pass-happy play-caller is well-known for installing a pass-heavy playbook ...