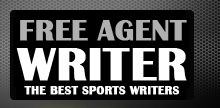 Yankee Addicts
Categories
Featured Sponsors
News published by
November 17, 2010
This Sunday the Arian Foster and the Houston Texans will travel to face Mark Sanchez and the New York Jets at the New Meadowlands Stadium in New Jersey. The last ...
September 27, 2010
There has been a tone of speculation around the first-round pick of Kareem Jackson by the Houston Texans in the 2009 draft. When Jackson came out for the draft in ...
September 23, 2010
This Sunday the 2-0 Houston Texans will host the 0-2 Dallas Cowboys at Reliant Stadium for the 3rd game of the regular season.Don't let the records fool you. By no ...
September 6, 2010
In the NFL teams are limited to a 53 man roster during the regular season. During OTA's, Training Camps, and the preseason teams are faced with the daunting task of ...
August 5, 2010
Training camp in at the Methodist Center has been under way for six straight days, taking us one week closer to a pivotal 2010 regular season for the Houston Texans. ...
August 2, 2010
Friday morning, Methodist training center, and the grass fields look just like head coach Gary Kubiack's new flat top hair cut...perfect. The air was tingling with excitement as the beginning days ...
July 29, 2010
The Houston Chronicle is reporting that the Houston Texans have signed fourth-round pick, tight end from Wisconsin Garrett Graham on July 28th. This will be Graham's second time to play ...
July 28, 2010
Ahhh… Training camp is a time for teams to solidify, and nail down their rosters. Just like every other team in the league, the Texans are about to undertake the daunting ...
July 15, 2010
During the 2010 NFL draft, for the second year in a row, and to everyone who follows this team's bewilderment, the Houston Texans selected two tight ends. First they took Garrett ...
July 6, 2010
With July's official arrival, the air is thick with the feeling of impending training camps. In Houston the excitement is almost too much to bear, all because Texans are a ...