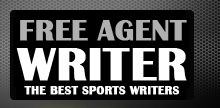 Yankee Addicts
Categories
Featured Sponsors
News published by
August 30, 2014
The Arizona Cardinals were among the last NFL teams to announce their final cuts following the four-game preseason. But as the saying goes, good things come to those who wait, ...
August 16, 2014
Welcome to Week 2 of the 2014 preseason! Though this game does not count toward regular-season records, it is dearly important for a number of young Arizona Cardinals. How they ...
June 3, 2014
As the Arizona Cardinals wrap up OTAs (organized team activities), it is time to look at some things to take away from the three weeks of unpadded practice. It is customary ...
May 30, 2014
Everyone take a deep breath. Now exhale slowly. Repeat. The Arizona Cardinals will be without star inside linebacker Daryl Washington for the entire 2014 NFL season, according to a tweet ...
May 27, 2014
Arizona Cardinals head coach Bruce Arians said Tuesday that he would like to get running back Andre Ellington 25 to 30 touches per game in 2014, according a tweet from ...
May 27, 2014
The first week-plus of Arizona Cardinals OTAs (organized team activities) have provided us with plenty to discuss regarding the rookies. Some have stood out as being nearly perfect, while others ...
February 4, 2014
Throughout the spring, you will see a host of different free agents and potential draft picks linked to the Arizona Cardinals. Not all will make sense; even some listed here may ...
September 3, 2013
Week 1 of the NFL season is upon us, and the Arizona Cardinals released the first depth chart of 2013 on Tuesday. We will give the entire chart to you, ...
August 14, 2013
GLENDALE, Ariz.—The Arizona Cardinals spent most of Tuesday scrimmaging in 11-on-11 drills, and one player stuck out once again, as he has all throughout training camp. Rookie Tyrann Mathieu made multiple ...
August 7, 2013
GLENDALE, Ariz.—Tuesday's practice was the first after a round of cuts for the Arizona Cardinals. It was announced prior to afternoon practice on Day 10 that three players had been ...