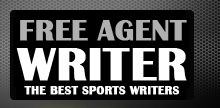 Yankee Addicts
Categories
Featured Sponsors
News published by
November 17, 2012
Normally, when an NFL quarterback gets close to breaking a record, fans get excited and local media jumps all over it. If the record is both old and important enough, ...
October 24, 2012
Through seven games this season, the Arizona Cardinals' offensive line has allowed an astounding 35 sacks—by far the most in the NFL. The Green Bay Packers are closest to them, ...
August 15, 2012
Yes, you read the headline right. The Oakland Raiders will, in fact, make the 2013 NFL playoffs. They were close to making last year's postseason, needing a Week 17 victory ...
August 12, 2012
After a long week of practice with the Kansas City Chiefs at Missouri Western State University in St. Joseph, the Arizona Cardinals came out of Friday's preseason game with more ...
July 7, 2012
While sifting through quarterback statistics, I stumbled upon some interesting numbers regarding how each NFC West signal-caller closed out games in 2011. At first, we will look at every stat ...
June 23, 2012
If Beanie Wells and Ryan Williams remain healthy, the Arizona Cardinals will return to the playoffs following the 2012 season. In part due to Williams' unfortunate preseason knee injury, Wells ...
June 16, 2012
Six Arizona Cardinals players will have breakout seasons in 2012 and become known for their play on the field. Last season the defense was able to get it together after ...
May 26, 2012
The Arizona Cardinals have had problems along the offensive line for years. That is nothing new. Its 54 sacks allowed in 2011 were No. 2 in the NFL. That is ...
May 26, 2012
During his rookie season, Arizona Cardinals cornerback Patrick Peterson impressed at times on the defensive side of the ball. He also struggled mightily early on, perhaps due to being thrust ...
March 7, 2012
With the news that the Indianapolis Colts are set to release Peyton Manning, we can officially say that he is the most highly sought-after free agent in NFL history. Manning, ...