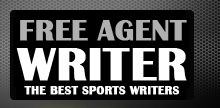 Yankee Addicts
Categories
Featured Sponsors
News published by
July 17, 2013
The Baltimore Ravens' Terrell Suggs is on the books for more than $10 million each of the next two years, and he's coming off of a major injury that sapped ...
June 26, 2013
No Super Bowl champion in recent memory has had more roster turnover than the Baltimore Ravens, but this has all been by design. Regardless of how last season ended, Ozzie ...
April 24, 2013
Tyrone Goard was never handed anything, but he's taken advantage of every opportunity given to him. When Eastern Kentucky University was the only school to give him a shot with ...
February 20, 2013
Speed. Strength. Athleticism. All will be on display in Indianapolis at the NFL Combine, and millions of dollars are at stake. A player can lose millions thanks to a slow ...
January 13, 2013
Five years into his career, Joe Flacco might have finally thrown a career-defining pass.His 70-yard touchdown strike to Jacoby Jones with 31 seconds left tied the Ravens with the Denver ...
December 25, 2012
Finally, we've gotten to Week 17.We've had an exciting NFL season with drama to spare, and it has led us this final week with some do-or-die matchups to conclude the ...
December 23, 2012
The NFC playoff picture is anything but clear, and the NFC East is the reason why. With three teams sitting at 8-6, the NFC East still has yet to determine ...
December 12, 2012
The Baltimore Ravens shocked the NFL when they fired offensive coordinator Cam Cameron on Monday, but those close to the organization know the move was a long time coming. The ...
October 27, 2012
This week's slate of NFL games features some top offensive matchups, promising huge numbers for some players. Let's get right into it. Here are this week's top starts and benches at ...
September 15, 2012
The Detroit Lions will travel to California to take on the San Francisco 49ers in what will be the premiere matchup of Sunday's slate of games. A few key matchups ...