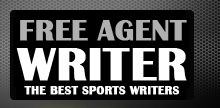 Yankee Addicts
Categories
Featured Sponsors
News published by
April 20, 2013
Some teams are looking at San Diego State's Gavin Escobar as high as the second round because he's a massive receiving tight end with good hands and ball skills. Just ...
April 16, 2013
NFL quarterbacks can come from anywhere, even the remote reaches of the desert of southern Utah desert.The NFL is changing, but Brad Sorensen possesses two attributes the pros have always ...
April 12, 2013
Conner Vernon would be a small guard in Duke's acclaimed basketball program, but he was a big-time producer at wide receiver for their forgotten football program. Can he become one ...
April 12, 2013
Everyone expected to see names like Marquise Goodwin and Tavon Austin atop the wide receiver 40 time results at the combine, but few predicted that Ryan Swope would post a 4.34, which tied Austin ...
April 9, 2013
The headlines in this year's draft tight end class have been dominated by the E's—Tyler Eifert (Notre Dame), Zach Ertz (Stanford), and Gavin Escobar (San Diego State)—but on the third ...
April 9, 2013
Geno Smith is the lightning rod for criticism of this year's class of quarterbacks. Players like Cam Newton, Andrew Luck and Robert Griffin III have spoiled football fans over the last ...
April 9, 2013
The opinions about the 2013 crop of quarterback prospects are all over the board. Russ Lande, a former NFL scout and draft analyst at National Football Post, has Nassib as his No. 1 overall prospect. Other ...
March 26, 2013
The Auburn football program has fallen on hard times just two years removed from a national championship season led by the first overall pick of the following NFL Draft. That ...
December 26, 2012
With the NFL postseason participants coming into focus and the bowl season in full swing, it's time to start thinking draft for both the best of the 2013 crop of ...
November 25, 2012
There's two weeks left in the fantasy football regular season. You know what you need to know to secure a playoff berth or first-round bye, or to help prevent one ...