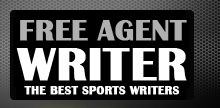 Yankee Addicts
Categories
Featured Sponsors
News published by
June 13, 2010
The safety position is one of the more underrated positions important wise on the defense and the entire game of football. When you typically watch a football game you usually ...
June 5, 2010
The AFC West is going to be one of the most underrated divisions in 2010. After the San Diego Chargers have been dominating the division the past few years, it's ...
June 4, 2010
When it comes to NFL rivalries the Chiefs and the Raiders are among the biggest ugliest rivalries in all of football. The past three years the Chiefs and Raiders have ...
June 2, 2010
The AFC West might be the most up and rising division in football, especially with the Kansas City Chiefs and the Oakland Raiders making big strides in free agency and ...
May 31, 2010
The quarterback is the most important position for any football team besides the offensive line. There are so many on the rise quarterbacks in the NFL today. Look at: Aaron ...
May 30, 2010
The Kansas City Chiefs and Chiefs fans were disappointed to see not just a bad season, but not one single Pro-Bowler. I have to admit that fans should not vote ...
May 29, 2010
Running backs in the NFL in my opinion are the most fun players to watch on the football field, they are so interesting they can be: Blazing fast, bulldozers, big, ...
May 28, 2010
When you watch a NFL game, typically you only pay attention to the quarterbacks, running backs, receivers, tight ends, etc., the only reason if those guys excel is because they ...
May 22, 2010
2010 NFL Training Camp is the next stop on the Kansas City Chiefs' road to success, with a successful free agency and draft position battles start to heat up. When ...
May 16, 2010
When you think of 3-4 defenses, you think of the outside linebackers and you would think thats the most important position in the 3-4. Outside of any other position in ...