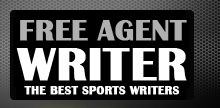 Yankee Addicts
Categories
Featured Sponsors
News published by
October 26, 2010
Hey Browns Fans, how about this? Just for the heck of it let's go ahead and do a seven-round Cleveland Browns mock draft! Please go ahead and comment on what ...
April 15, 2010
The Cleveland Browns, President Mike Holmgren, and General Manager have 10 draft picks in this NFL Draft. There are many holes to fill on both sides of the football but ...
March 23, 2010
Since the Cleveland Browns have come back into the NFL in 1999, they have amassed a losing record and gone through 20-something quarterbacks, five head coaches, and just one playoff ...