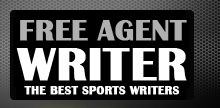 Yankee Addicts
Categories
Featured Sponsors
News published by
March 5, 2011
The Pittsburgh Steelers' 2011 draft has not been easy to figure out, and most of us writing mock drafts will be more wrong than right. Mock drafters sometimes guess, sometimes ...
August 14, 2010
It is a wee bit early with two weeks of training camp over and three weeks to go. But I think it is time to start talking about what players ...
July 3, 2010
This subject has already been beaten up lately and I apologize if you find it some what repetitive. I am not going to write anything unkindly about any of the ...
June 4, 2010
I know it is really too early to confidently predict the Steelers 53 man roster. But it sure is fun to speculate. The have been unusually active with trades and free ...
May 20, 2010
 Mike Tomlin's coaching staff is entering it's fourth year. All but five of the coaches on his staff are people Tomlin hired to help carry out his job as head coach.The other four coaches ...
May 11, 2010
The president of the Steelers' Art Rooney ll stated at the end of last season the Steelers' needed to get better at running the ball than they ...
April 30, 2010
We all know that center Maurkice Pouncey was drafted to eventually take over as the next starting center for the Pittsburgh Steelers. We also assume that he will either start ...
April 5, 2010
   With the draft coming up, in the past three months I have read continuing arguments about the defensive versus the offensive needs. What the team's problems were last season. What the Steelers need ...
March 27, 2010
Why do NFL teams even bother with the later rounds in the draft? Ever since Kevin Colbert became director of football operations in 2000, the Pittsburgh Steelers have been considered one of ...
March 24, 2010
In this article I have attempted to do a realistic mock draft—as close to an actual real draft as I could come with my limited knowledge of the Steelers and NO ...