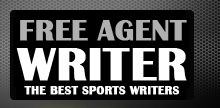 Yankee Addicts
Categories
Featured Sponsors
News published by
December 26, 2015
After a two-game losing streak put home-field advantage in jeopardy, the New England Patriots have since bounced back nicely with two breezy wins over AFC South competition. And having received ...
December 10, 2015
Panic is not a customary feeling around Foxborough, but the New England Patriots are feeling a bit of heat after their second consecutive loss last week.  Now out of a first-round bye, the ...
November 30, 2015
Injuries have dogged the New England Patriots the entire season.  For the first time, though, the Pats were unable to overcome their barrage of casualties, losing key starters and their ...
November 14, 2015
For the New England Patriots, the best-laid plans of mice and men have gone horribly awry in recent meetings against the New York Giants.  The G-Men have been the kryptonite ...
November 5, 2015
Approaching the halfway point of the season, the New England Patriots have created some separation between themselves and the rest of the NFL. Though the Pats are one of four ...
October 24, 2015
Even with Rex Ryan out of the equation, it's clear the New England Patriots and New York Jets haven't lost any love for each other. The two teams have traded ...
October 22, 2015
After playing one of their most emotionally exhausting games of the season, the New England Patriots will face a similarly difficult challenge in Week 7 against the unexpectedly resurgent New ...
October 19, 2015
It might not have been the blowout many anticipated, but the New England Patriots did just enough to take the air out of Lucas Oil Stadium, holding off the Indianapolis ...
October 15, 2015
No matter what the New England Patriots tell the media, it seems more probable than not that they've had the Indianapolis Colts on their minds for the better part of ...
October 8, 2015
After drawing the earliest possible bye week, the New England Patriots face a grueling 13-week stretch over the final three months of the regular season.  But while fatigue and injuries ...