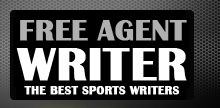 Yankee Addicts
Categories
Featured Sponsors
News published by
April 13, 2011
This evening, ESPN had a special on entitled "On The Clock".  It was essentially a draft overview program with the usual suspects in John Clayton, Mel Kiper and Todd McShay.  ...
March 19, 2011
Author's note:  This article contains irony and sarcasm.  Please be aware that these vehicles are most assuredly not intended to mock or make light of actual slavery, which I find ...
March 2, 2011
As the 2011 NFL Draft approaches, I'm seeing and hearing skepticism growing that the Buffalo Bills will benefit from the third pick overall.  As hard as I try to be ...
January 26, 2011
Whenever we get to the point of knowing who the Super Bowl opponents will be, most of us hope for a great game, or at least a good one.  On ...
March 14, 2010
Two warnings right up front:  This is my opinion, my opinion only.  It is based upon watching many games last fall, the Senior Bowl game and the workouts, and the NFL Combine. I ...
March 3, 2010
  Perhaps lost in the avalanche of information from the combine, but certainly diametrically opposed to a statement from NFL Commissioner Roger Goodell on the subject, came an announcement from the ...