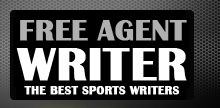 Yankee Addicts
Categories
Featured Sponsors
News published by
May 7, 2010
The Jacksonville Jaguars will be returning to the playoffs this season, but not on the road as a wild card team. They will be hosting a game in sold out ...
April 21, 2010
Ah, the time has come.  You can feel it in the air.  Christmas is here!  No we are not in the wintery-weather month of December.  Yes we are in the ...
April 10, 2010
This will be my first mock draft of this year because I wanted to wait a few weeks closer to the draft to have a better idea of what teams ...