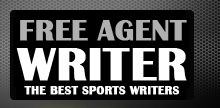 Yankee Addicts
Categories
Featured Sponsors
News published by
April 8, 2010
A slew of offseason personnel moves by the Cleveland Browns' organization, along with the recent trade of All-Pro quarterback Donovan McNabb to the Washington Redskins, have forced mock draft prognosticators ...
March 17, 2010
After the Cleveland Browns unceremoniously cut loose the last two starting quarterbacks and replaced them with an aging starter and a career backup, it is pretty obvious that the team ...
January 7, 2010
To say the news that Eric Mangini being retained as head coach of the Cleveland Browns is shocking may be the understatement of the year.   Regardless of where you came down ...
January 6, 2010
Hiring a respected, credible football man like Mike Holmgren to be the President of the Cleveland Browns organization was a smart move on the part of owner Randy Lerner. In ...