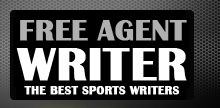 News published by
October 29, 2014
The St. Louis Rams (2-5) will hit the road to take on the San Francisco 49ers (4-3), and the Rams will need a creative game plan to come out on ...
October 15, 2014
The St. Louis Rams (1-4) will host the Seattle Seahawks (3-2) for the first matchup of the 2014 season between these two NFC West rivals.  The Rams will have a short ...
October 8, 2014
The St. Louis Rams have apparently settled on Austin Davis as the starting quarterback for the 2014 campaign in the absence of Sam Bradford, but Davis is making a strong ...
September 24, 2014
The St. Louis Rams (1-2) are off to a rough start to the 2014 season. The Rams are entering a much-needed Week 4 bye, which gives them a chance to ...
September 10, 2014
The St. Louis Rams (0-1) will travel south to take on the Tampa Bay Buccaneers (0-1) for their first road trip of the 2014 regular season. The game will kick ...
September 2, 2014
It's hard to ignore the popularity of HBO's smash-hit television series Game of Thrones, based on the novels by George R. R. Martin, but have you imagined what the NFL ...
August 23, 2014
Final St. Louis Rams 33, Cleveland Browns 14      Read more NFL news on BleacherReport.com
August 17, 2014
The St. Louis Rams' second preseason contest ended in a disappointing 21-7 loss to the Green Bay Packers, so the team as a whole obviously has plenty of areas that ...
June 18, 2014
One of the most exciting aspects of sports, from an entertainment standpoint, is that no two seasons are ever exactly the same due to constant personnel change—players as well as ...
June 11, 2014
Predictions and NFL football go hand in hand. Some predictions are mild, while others are bold and somewhat unlikely.  There are hundreds of predictions to be made when it comes to ...