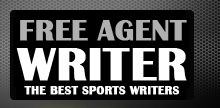 News published by
September 10, 2014
The St. Louis Rams (0-1) will travel south to take on the Tampa Bay Buccaneers (0-1) for their first road trip of the 2014 regular season. The game will kick ...
September 2, 2014
It's hard to ignore the popularity of HBO's smash-hit television series Game of Thrones, based on the novels by George R. R. Martin, but have you imagined what the NFL ...
August 23, 2014
Final St. Louis Rams 33, Cleveland Browns 14      Read more NFL news on BleacherReport.com
August 17, 2014
The St. Louis Rams' second preseason contest ended in a disappointing 21-7 loss to the Green Bay Packers, so the team as a whole obviously has plenty of areas that ...
June 18, 2014
One of the most exciting aspects of sports, from an entertainment standpoint, is that no two seasons are ever exactly the same due to constant personnel change—players as well as ...
June 11, 2014
Predictions and NFL football go hand in hand. Some predictions are mild, while others are bold and somewhat unlikely.  There are hundreds of predictions to be made when it comes to ...
May 21, 2014
Like every NFL team, the St. Louis Rams will use training camp as a tool to trim the fat and drown out the weak links, leaving only the best 53 players possible ...
May 18, 2014
The St. Louis Rams have had their fair share of franchise-crippling draft selections. In fact, from the 2003 NFL draft to the 2009 NFL draft, Chris Long and James Laurinaitis ...
May 14, 2014
The St. Louis Rams had a phenomenal draft thanks to the luxury of owning two top-15 selections, but even after the draft reaches an end, the rookie additions do not ...
May 11, 2014
The St. Louis Rams entered the draft determined to beef up the offensive line, as well as the depth behind the starters.  Center Demetrius Rhaney—St. Louis' final selection of the draft—is ...