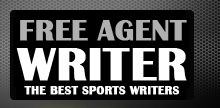 News published by
July 8, 2015
Now that the franchise playoff drought has hit the 10-year mark, the St. Louis Rams will be hungry in 2015.  If one aspect of the team is going to lead the ...
July 1, 2015
The St. Louis Rams will heavily depend on rookies at several key positions on offense. Naturally, fans want to know what the expectations are for those first-year players. As a refresher, ...
May 13, 2015
The initial wave of free agency and the NFL draft are now complete, but the St. Louis Rams still have needs to address. The Rams have a talented roster and will ...
April 22, 2015
The official schedules for the 2015 NFL season are now available, so it's time to look at the upcoming season and predict the results for the St. Louis Rams.  After finishing ...
February 22, 2015
In many ways, the NFL combine signals the start of the long NFL offseason. It allows scouts and general managers to get a glimpse at potential stud prospects and formulate ...
January 28, 2015
Building an excellent roster requires wise decision-making in the early rounds, but the best teams also fortify the depth by finding late-round gems.  If the Rams want to compete in 2015 ...
January 7, 2015
With the 2015 offseason approaching, many are wondering if the St. Louis Rams will have the necessary salary-cap space to partake in the ferocious bidding wars for veteran players.  Sites such ...
December 10, 2014
The St. Louis Rams (6-7) will take on the Arizona Cardinals (10-3) for an NFC West showdown on prime-time Thursday Night Football. The game will air on the NFL Network at ...
December 3, 2014
The St. Louis Rams (5-7) will travel to the East Coast to take on the struggling Washington Redskins (3-9), and this article will break down St. Louis' game plan.  The Rams ...
November 26, 2014
The St. Louis Rams (4-7) will take on the Oakland Raiders (1-10) for a second consecutive matchup against a West Coast team, but this time the Rams will have home-field ...