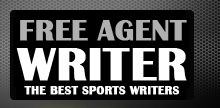 Yankee Addicts
Categories
Featured Sponsors
News published by
September 22, 2010
Jahvid Best's junior season at California ended prematurely after taking a scary fall that resulted in a concussion as he was scoring a touchdown against the Oregon State Beavers, and ...
September 16, 2010
If the San Francisco 49ers are finally going to make the playoffs a feat the team has not done since 2002, Michael Crabtree is going to have to be called ...
September 13, 2010
This was the year the San Francisco 49ers were supposed to take the NFC West by storm. Alex Smith finally had an offensive coordinator around for a consecutive season and ...
August 18, 2010
According to dictionary.com, the definition of power is this: the possession of control or command over others. That definition alone explains exactly what Brett Favre has over the Minnesota Vikings, ...
July 5, 2010
There's been plenty of articles that I've seen recently that are trying to make a point about unorthodox deliveries. The conventional wisdom is that if a few players are able ...
June 25, 2010
Brett Favre is a disgrace! Year after year it's the same old story with him. Will he play or will he not? It got so old for Green Bay that ...
May 16, 2010
Kurt Warner's first three years in the NFL were incredible. Over that span from 1999 to 2001, the St. Louis Rams went 35-8. He also helped the Rams in 1999 ...
April 16, 2010
The San Francisco 49ers brought in first round bust Ted Ginn, Jr. as the answer to their special teams woes. Ginn will definitely help out in the return game, his ...
April 15, 2010
Recently I wrote an article examining the top 10 blunders of the San Francisco 49ers of the last two decades. Well over the last two decades the 49ers also have ...
April 3, 2010
Over the past decade, the San Francisco 49ers have had their share of wasted picks in the NFL Draft, from overlooking certain players to just flat-out misses. In 2009, the ...