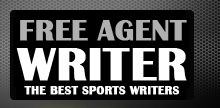 Yankee Addicts
Categories
Featured Sponsors
News published by
September 1, 2010
According to ESPN's Adam Schefter, the Raiders have interest in a possible trade for disgruntled Arizona Cardinal quarterback Matt Leinart. If the trade happened, it would be three former first-round quarterbacks ...
August 30, 2010
With the San Francisco 49ers Oakland Raiders preseason game in the books it's time to breakdown how the Raiders fared. Due to the Bay Area rivalry, this was the Raiders ...
August 27, 2010
The third preseason game is typically considered to be the main "dress rehearsal" for every teams starting line up. A game plan is set and the starters typically play the ...
August 18, 2010
Do the Raiders have leadership? The initial knee jerk reaction would be to say "of course." If asked who those leaders are, Nnamdi Asomugha and Richard Seymour are most likely the first ...
August 14, 2010
Last night, the Raiders defeated the Cowboys 17-9 in their first preseason game. You take things with a grain of salt in the preseason, but there was a lot of telling ...
May 6, 2010
I am not a JaMarcus Russell apologist. His performance on the field and demeanor off it all expressed a lethargy that has cost the Raiders $39 million over three seasons, and ...
April 9, 2010
If you've just woken up from a coma, the Philadelphia Eagles have traded away Donovan McNabb to the Washington Redskins. Now that the post-trade buzz that overshadowed baseball's opening day ...