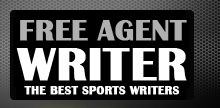 Yankee Addicts
Categories
Featured Sponsors
News published by
July 20, 2013
Training camp for the New York Giants is now only days away, with the official start date July 26. The long offseason is almost complete, and the start of the ...
June 18, 2013
Finding buzz in the New York Giants offseason has not been hard. Between injuries, contract squabbles and standout performances at OTAs and in minicamp, Big Blue has done their fair ...
March 2, 2013
What a difference a couple of tweets make.Up until Wednesday, it appeared that re-signing free agent Martellus Bennett was in the Giants plans and a realistic option.In his first year ...
February 9, 2013
It was certainly a busy week for the New York Giants as Michael Boley, Ahmad Bradshaw and Chris Canty were cut by the team over the course of two days. ...
December 25, 2012
Over the last month I've written a lot about the 2013 New York Giants. I honestly believed that it was premature since the Giants were in the thick of the playoff ...
October 17, 2012
It would seem that the New York Giants would be wise to do nothing at the trade deadline, which is quickly approaching on October 30.They have won four of their last ...
October 10, 2012
The New York Giants are off to a solid 3-2 start despite a rash of injuries and a brutal last-second loss to the Eagles in Week 4.While the team as ...