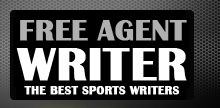 Yankee Addicts
Categories
Featured Sponsors
News published by
February 25, 2011
Cam Newton was the quarterback for the Auburn Tigers, was clearly the best player in the country, won the Heisman Trophy, and led his team to a national championship.Now, he ...
February 9, 2011
The Cincinnati Bengals ditched Bob Bratkowski in favor of Jay Gruden, whose new offense will catapult the Bengals into the Super Bowl in 2012.As interesting as that is, the focus ...
January 22, 2011
Cedric Benson was the feature back for the 2010 Cincinnati Bengals.He came to the Bengals back on Sept. 30, 2008 when the Bengals signed Benson to a one-year, $520,000 contract. ...
January 7, 2011
Cincinnati Bengals news can be found here.Don't surf the web. Everything you need to know is here.Begin Slideshow
November 19, 2010
Cam Newton is the quarterback for the Auburn Tigers. He is best player in the country and may win the Heisman Trophy.There is a chance that Newton will enter the ...
October 17, 2010
Marvin Lewis, head coach of the Cincinnati Bengals, is on the hot seat. Lewis, whose contract is up after this year, has shown to be a decent coach. He regularly ...
September 20, 2010
The Cincinnati Bengals won their first game by beating the Baltimore Ravens 15-10.They did not score a touchdown. Carson Palmer has had better games. Palmer and Terrell Owens have ...
September 16, 2010
This Sunday, the Bengals have a big game at home against the Baltimore Ravens. It would be easy to predict a Ravens victory in this game. They just won a ...
September 10, 2010
According to many sources like this, Antwan Odom is looking at a four-game suspension for performance enhancing drugs. Odom has appealed the suspension and is hopeful that a reversal is ...
September 5, 2010
The Bengals are down to a 53-man roster. There will be more changes coming but they are required to be at 53 now. The Bengals are thought to be looking ...