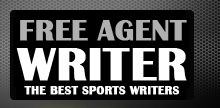 Yankee Addicts
Categories
Featured Sponsors
News published by
January 22, 2011
With just over four months to go until the 2011 NFL draft, I'm starting to want to write mock drafts every single day, but that would become annoying.That said, I ...
December 22, 2010
Well, the Vikings are 5-9. I would have laughed anybody off if they told me that would be Minnesota's record in week 16.I guess the truth hurts.Minnesota is a team ...
December 19, 2010
If you follow the NFL on a regular basis you now know exactly who Joe Webb is. But in case you're unfamiliar, allow me to tell you who he is.Webb, ...
November 21, 2010
In what will most likely go down as Brett Favre's last game against the Green Bay Packers, the Vikings host Green Bay in what is sure to be a down-to-the-wire ...
November 20, 2010
The Minnesota Vikings are a team that is "all in" this season, and when you look at their free agents this offseason, you would agree.With Brett Favre likely to retire ...
November 13, 2010
After several days of solid work and preparation in practice, Vikings wide receiver Sidney Rice will be making his extremely anticipated debut against the Chicago Bears.Rice, who had a breakout ...
November 7, 2010
First off, I would like to apologize for abandoning my goal of putting out a weekly mock draft. I felt as though few changes would happen in a span of ...
November 1, 2010
In a stunning turn of events, the Minnesota Vikings have reportedly waived Randy Moss, a day after the Vikings went on the road against Moss' former team the New England ...
October 18, 2010
Coming off a much-needed victory against the Dallas Cowboys, the Minnesota Vikings are already focused on their next opponent, the Green Bay Packers.Despite a rough start to the 2010 season, ...
October 6, 2010
The latest talk around the Vikings' organization is the serious possibility of acquiring Randy Moss from the Patriots. According to several sources like FoxSports (Jay Glazer), Jason LaCanfora, and the ...