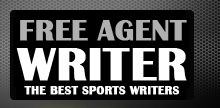 Yankee Addicts
Categories
Featured Sponsors
News published by
April 23, 2011
The Kansas City Chiefs' 2011 NFL schedule was released earlier this week, Tuesday November 19, and to no one's surprise the Chiefs face much stiffer competition.  This increase in competition ...
April 10, 2011
Quarterback: Len Dawson When it comes to the greatest Kansas City Chiefs of all time, Len Dawson's name has to come up in the argument. As far as impacting the team ...
April 7, 2011
A month back I prepared a mock draft that went into detail about who the Kansas City Chiefs should select in each round of the upcoming 2011 NFL Draft.  The ...
March 4, 2011
As much as fans complain about the "workout warrior" college prospects shooting up the NFL draft boards in late February, there is also a flip side to the combine workouts. Players ...
March 2, 2011
Now that the combine is over and we have a little over a month until the draft. Now it is the time for teams to start sorting through the players ...