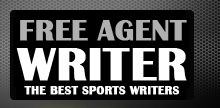 Yankee Addicts
Categories
Featured Sponsors
News published by
December 19, 2010
Need help deciding your final fantasy football lineup for Week 15? We're live on NFLSoup.com from 10 a.m. until 1 p.m. EST. Come get into the conversation and get some free ...
November 28, 2010
Need help deciding your final fantasy football lineup for Week 12? Head over to NFL Soup where our fantasy writers are waiting to analyze your every move and help with any questions you ...
November 27, 2010
With three Thanksgiving Day games in the books, we're set for an abbreviated 12-game Sunday slate and, of course, the Monday nighter, as well. Because fantasy football never takes a holiday, ...
November 10, 2010
So, the Lions are playing the Bills this week. Now, blindly, this may look like a run-of-the-mill "Garbage Can Game of the Week." However, the Lions are pretty solid despite that unfortunate ...
November 9, 2010
NFLSoup.com is dedicated to bringing you the best fantasy football content offered on the web. You knew that, of course, right? The Dallas Cowboys may be a bit of a circus right now, ...
November 8, 2010
On paper, tonight's Steelers-Bengals Monday night showdown looks fairly one-sided. Pittsburgh, coming off a loss last Sunday night to New Orleans, can tie Baltimore at 6-2 atop the AFC North with ...
October 31, 2010
Tired of losing in fantasy football? Sick of trying to have your specific question answered, only to see it fall by the wayside? Well, you don't have to bother with that ...
October 28, 2010
Think Week 7 was unpredictable enough? We all had the Browns dominating the Saints and the Bills taking the Ravens to overtime, right? As one of the strangest NFL seasons in recent ...
October 24, 2010
With the combination of injuries to key players and bye weeks for Indy, Houston, the Jets and Detroit, you may have quite a bit of shuffling to do before you're ...
October 21, 2010
With the Colts, Texans, Jets and Lions all on bye weeks this week, there's an awful lot of fantasy firepower out of the mix for the week.  Be sure to ...