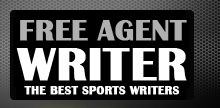 Yankee Addicts
Categories
Featured Sponsors
News published by
August 16, 2010
The Chargers opened their 2010 preseason with a 25-10 win over the Bears.  However, wins and losses  are not as important in the preseason as finding out a team's strengths ...
August 9, 2010
The Chargers will start their quest for a Super Bowl Saturday, in a preseason game against the Chicago Bears. There are many questions that the Chargers are going to have to ...
July 19, 2010
With training camp just around the corner, it is time for fantasy owners all over the country to put together their draft boards. With one of the most prolific ...
July 1, 2010
We get it, AJ.  You put the team together.  You are the mastermind.  No one messes with you.  But at some point you need to realize that you are not ...
May 26, 2010
New York is the No. 1 market in the United States, and one of the biggest in the world. So what's the big problem with putting the United State's greatest ...