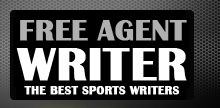 Yankee Addicts
Categories
Featured Sponsors
News published by
October 22, 2013
Nearly two months into the 2013 season, the New York Giants accomplished something for the first time: They won a football game. Aside from the obligatory joy of staving off ...
July 23, 2013
The National Football Conference is an assembly of some of the NFL's best teams. Each year presents an impossible task of handicapping which teams will emerge from the parity as ...
July 2, 2013
With the 2013 season nearly two months away, the New York Giants are still exploring veteran free-agent options. There are a handful of players without contracts who can still contribute ...