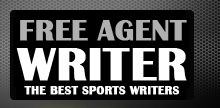 Yankee Addicts
Categories
Featured Sponsors
News published by
November 1, 2010
They are two southern drawls that reside in separate worlds. One's a Texas man, the other wants to be. One's interested in building a franchise on country miles of good ol' boy ...
September 16, 2010
I'm not going to reiterate what happened or didn't happened to Ines Sainz in the New York Jets locker room in this space. You've surely heard it by now. If you ...
September 16, 2010
Week 1 of the NFL season was not one for the ordinary mind. Things happened that nobody expected to happen, and some things that we expected to happen didn't. There ...
September 2, 2010
OK, this much we know: Marvin Austin will not be suiting up for North Carolina this Saturday when the Tar Heels take on the LSU Tigers in Atlanta. And due to ...
August 26, 2010
As the saying goes, everything's bigger in Texas.Bigger stadium, bigger hype, bigger expectations. Owner Jerry Jones moved the Cowboys into a brand new, $1.25 billion stadium last season. Dallas sold out ...
August 19, 2010
When Houston Texans' linebacker Brian Cushing was notified in May of a failed drug test he took last September, he refused to believe the results came out correctly. There was ...