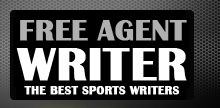 Yankee Addicts
Categories
Featured Sponsors
News published by
July 27, 2010
NFL training camps kicked off today around the country, and the drama of players battling for roster spots was not the only excitement to take place. In Miami Dolphins training ...
July 26, 2010
by Matt Webb Lately no NFL off-season is complete without discussions surrounding Terrell Owens and which team is desperate enough to take the risk of signing him to a contract. Last year ...
July 22, 2010
by Tim Hoffman In the wake of the Heisman committee announcing they were exploring possibly revoking Reggie Bush's 2005 Heisman trophy after finding out he received money and benefits in college, ...
July 22, 2010
by Matt Webb Just a few weeks ago, almost 10 million people inexplicably tuned in to ESPN to watch LeBron James announce where he would be playing basketball this fall. Banking ...
July 7, 2010
SportsComedian.com examines the cancellation of popular VH1 reality show Douchehouse, featuring seven NFL wide receivers living together in one home for the summer. The show was cancelled after complaints from ...