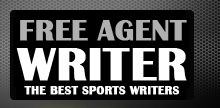 Yankee Addicts
Categories
Featured Sponsors
News published by
April 11, 2011
We like to think of football as this perfectly-performed opera.This drama unfolding on a football field, with precision-trained warriors playing their guts out on a blood-and-sweat soaked field for three ...
April 10, 2011
The labor situation hasn't improved much in the last few weeks; in fact we haven't heard much of anything save for the last couple of days.And with the players locked ...
March 28, 2011
So it's now March and the NFL Draft is right around the corner.And after that?Well, we don't know yet. Common sense would tell us that there will be a season, ...
March 25, 2011
The NFL is still mired in labor issues, but the NFL draft is still going full steam ahead as planned for late April. What the atmosphere will be like in Radio ...
March 13, 2011
NFL Draft 2011 Could Go A Couple Of Different Directions For The Seattle SeahawksThe Seattle Seahawks are in a tough position. How do they look at last season: Was it ...
March 13, 2011
NFL Draft 2011 Could See The St. Louis Rams Take Illinois' Corey LiugetThe St. Louis Rams overachieved by all accounts last season, going from the No. 1 overall pick to ...
March 12, 2011
Well, we've reached the point that every football fan was dreading. As of last night, the National Football League Players Association officially decertified as a union and the National Football League ...
March 11, 2011
To say the NFL Draft is an inexact science would basically be nothing short of stating the obvious.Because we all know that no matter how many physical tools a player ...
March 8, 2011
Well as the NFL and NFLPA went back to the negotiating table, front offices and free agents sat and waited.As part of the deal that extended the CBA deadline to ...
March 6, 2011
In the NFL world, it's never too early to start talking about next season.And while next season may very much be in doubt because of the labor negotiations and a ...