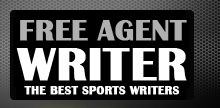 Yankee Addicts
Categories
Featured Sponsors
News published by
July 19, 2010
Wide receiver Terrell Owens is once again on the free agent market this summer. He is struggling to find a home for the upcoming season. Owens hauled in 55 ...
July 19, 2010
The Detroit Lions are still a year or two away from truly contending in the NFC North. However, they are no longer the laughing stock of the NFL. With the ...
July 9, 2010
The Seattle Seahawks come into the 2010 season with competition at every skill position. Although it will be good to create a heated training camp, that does not bode well for ...
July 2, 2010
When you go from a starting backfield that consists of Donovan McNabb and Brian Westbrook, to Kevin Kolb and LeSean McCoy, there is certainly reason to worry if you're an ...
June 24, 2010
Summer may have just started, but that doesn't mean we can't begin talking about football season. After all, training camp is just a little over a month away. The Houston Texans will ...
June 16, 2010
The Washington Redskins will be having a mandatory minicamp beginning this Wednesday. One of the biggest questions surrounding this week's minicamp is whether Albert Haynesworth will be in attendance. Haynesworth has made ...