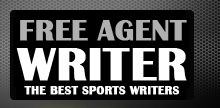 Yankee Addicts
Categories
Featured Sponsors
News published by
September 1, 2010
During the NFL draft, one of the players I secretly wished the Packers would select was Dexter McCluster from Ole Miss.  Obviously, the Packers were desperate for an offensive tackle and ...
April 25, 2010
     So now that they NFL draft is officially over, tons of fans will converge on bleacher report and various other website to gripe their grievances about not drafting a ...
April 20, 2010
In my previous article, I analyzed the economics of the NFL draft and Ted Thompson's preferences during the offseason.  In summary I concluded that yes, Ted Thompson has it ...
April 6, 2010
Ironically, the most divisive person in the Packers' organization isn't even a player: it's GM Ted Thompson.  Fans are quick to take sides when it comes to Thompson; some hate him ...
April 2, 2010
Back in the days of Vince Lombardi, the offensive line had an almost communist quality; the offensive line was an integral part of the team, but you never knew anyone's ...