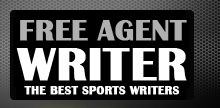 Yankee Addicts
Categories
Featured Sponsors
News published by
September 25, 2011
The Raiders are an enigma.The black and white. The skull and crossbones. Al Davis!  Come to our house and fear us. Championship banners and Super Bowl rings.Oh! The Jets have ...
October 23, 2010
Week 6 in the NFL still brought many surprises as parity rules the NFL, and any given Sunday, teams like Detroit and St. Louis can post a win against most ...
September 28, 2010
Due to a improved week of 10-6 last week against the line, I stand at 25-23  after two weeks in a row at 7-9 to start the season. The underdogs were ...
September 23, 2010
7-9 two weeks in a row was not expected as the underdogs still run the ship going into week three. I have noticed point spreads dropping on average as Vegas tries ...
August 11, 2010
While we all are trying to figure out what the Vikings will do, with or without Brett Favre, it really does not matter in the long run in 2010. As we ...
August 7, 2010
With more experience, added depth, and the continued fine defensive play that is the benchmark of this team, the Baltimore Ravens are poised to win the AFC North this season. Joe ...
August 7, 2010
Predictions to date: Oakland Raiders 8-8, Dallas Cowboys 11-5, New England Patriots 10-6, New York Jets 10-6, Pittsburgh Steelers 10-6,San Francisco Forty Niners 10-6 Philadelphia Eagles 9-7. The Jets and New England ...
August 6, 2010
Andy Reid is a shrewd judge of quarterback talent in the NFL. Reid will throw the ball more often than run. We all know that by now, but having one of ...
August 4, 2010
The defensive back pictured will sign a contract extension, or they will tear that one up and write a new one. Darrelle Revis is probably worth the money he wants, as ...
July 31, 2010
Move over Jerry Rice. Make way Terrell Owens. There's a new wide out waiting to bust out this first full season named Michael Crabtree. Crabtree will be a key ingredient all ...