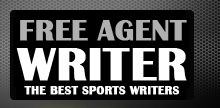 Yankee Addicts
Categories
Featured Sponsors
News published by
December 18, 2013
After spending most of the season backing Christian Ponder as the starting quarterback, head coach Leslie Frazier and the Minnesota Vikings have changed their minds and are going with Matt ...
December 4, 2013
Over the last four games, the Minnesota Vikings have gone 2-1-1. In the three non-losses, cornerback Xavier Rhodes was on the field for more plays than usual. That is no ...
November 27, 2013
The Minnesota Vikings are wasting a valuable opportunity to create the greatest one-two rushing attack in the NFL. Fourth-year running back Toby Gerhart is on pace for his fewest carries in ...
November 20, 2013
The Minnesota Vikings have eight interceptions on the season, ranking them 20th in the NFL. Seven of those interceptions came in the first four games. Following their bye in Week ...
November 13, 2013
This was supposed to be a breakout year for the Minnesota Vikings' Kyle Rudolph. After leading the team with nine touchdown passes last season and earning the Pro Bowl MVP honors, ...
November 6, 2013
With each game, the Minnesota Vikings continue to drop to new lows. At some point they have to hit rock bottom and things will finally start looking up. Let's hope that ...
October 30, 2013
Amid the many disappointments this season for the Minnesota Vikings, there has been at least one bright spot—rookie Cordarrelle Patterson. Fairly or not, Patterson will always be compared to Percy Harvin. ...
October 16, 2013
Minnesota Vikings head coach Leslie Frazier should consider pulling out all the stops if he wants to remain employed in the NFL—it seems to have worked for at least two ...
October 9, 2013
The Minnesota Vikings' signing of quarterback Josh Freeman gives the team more of what they already have—mediocrity. Freeman is another quarterback with a losing record as a starter and a ...
October 2, 2013
After leading the Minnesota Vikings with nine touchdowns last season and winning the Pro Bowl MVP, this was supposed to be a breakout season for tight end Kyle Rudolph. But ...