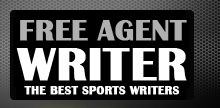 Yankee Addicts
Categories
Featured Sponsors
News published by
August 3, 2010
The Jacksonville Jaguars finished up the fourth day of training camp with a lighter than usual practice that was highlighted by David Garrard taking the practice off, participating as a ...
August 1, 2010
The third day of training camp seemed to recall a familiar theme as the heat ramped up into the mid-90's before the session concluded. The breeze was scarce, as ...
July 31, 2010
The Jacksonville Jaguars wrapped up the first full day of training camp with a cool breeze and a festive crowd. It was one of those typical summer days beginning with ...
May 1, 2010
There was a nice crowd down at the practice fields of Jacksonville Municipal Stadium to see the 2010 Jaguars take the field for the first time since the end of ...