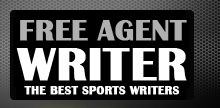 Yankee Addicts
Categories
Featured Sponsors
News published by
June 30, 2010
Many NFL fans, when encouraged, will immediately rank the 1985 Chicago Bears with its 18-1 record as the best team in the XLV years of the Super Bowl super era.  ...
June 27, 2010
It's a great quarterback nickname, coined by the cynical New Yorkers of the late 1970s. "Parkway Joe" Pisarcik, was described by the tabloids' sportswriters as "the bargain basement quarterback." No $427,000 bonus ...
June 21, 2010
I'll say this: If the 1983 Raiders are the fourth best team in the 1982-1987 Bull Market Era, the other three must have been coached by Saint Peter with Moses as the ...
June 17, 2010
Wall $treet and its denizens set the tone for a short period in United States history during which everything (except Democrats) had nads. Have you watched AMC's Mad Men ?  ...
June 9, 2010
  In my first two or three years of college (beer and poker...I think I lost a semester), I studied psychology, hoping someday to become a counselor.  Yeah, right. After seriously evaluating my ...
May 25, 2010
At the young age of 10 I was already a football freak.  Even though I knew little about the game and didn't play for fear of being hit really hard, ...
May 11, 2010
I'm the guy who in two recent Bleacher Report articles tried to tie NFL commissioner Roger Goodell to racism and misogyny in his handling of the Ben Roethlisberger situations. Thirty ...
May 10, 2010
Steelers fans around the globe knew Sunday January 21, 1979, was going to be a special day.  Their Pittsburgh Steelers and the Dallas Cowboys, the Steel Curtain and America's ...
May 8, 2010
I'm the guy who in a Bleacher Report article attempted to tie NFL commissioner Roger Goodell to racism after he, in my opinion, pitched Ben Roethlisberger a creampuff with his ...
May 5, 2010
Of all the sorry…I mean "Up With People?"  Talk about an exciting Super Bowl X halftime show.  It was as if your church's choir had taken off the robes to ...