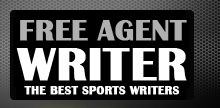 Yankee Addicts
Categories
Featured Sponsors
News published by
March 7, 2011
By placing the highest possible tenders (first and third-round draft choices) on tight end Zach Miller and back-up running back Michael Bush, the Oakland Raiders continue their offseason spending spree ...
February 2, 2011
When former Oakland Raiders coach Tom Cable was let go at the end of the 2010 regular season, there was a sense among some Raiders players that Michael Bush had ...
January 20, 2011
The Oakland Raiders' new coach, Hue Jackson, was king of the world for a moment Tuesday afternoon. He said the Raiders are chasing perfection and boldly predicted the team to win ...
October 26, 2010
The Oakland Raiders played the game of the year in their 59-14 blowout of the hapless Denver Broncos Sunday afternoon. But does this dominating performance mean the Raiders have turned ...
September 22, 2010
Conflicting reports are coming out Oakland about who the Raiders' starting quarterback will be this Sunday, and according to NFL Insider Jason LaCanfora, the starter will be:   Bruce Gradkowski.  The fourth-year ...
August 27, 2010
The Oakland Raiders are 2-0 in the preseason and seem to have all the earmarks of a team on the rise. As unlikely as it sounds, the Raiders could be ...
August 18, 2010
After an uneven performance against Dallas in its preseason opener, I'm not going to say that Oakland has turned the corner on a seven-year run of bad football, but things are ...
April 15, 2010
Before we jump off into rumor central and the latest draft discussion talk, let's get up to speed on some news and notes from the silver and black.  Linebacker Kirk Morrison ...
April 1, 2010
  The NFL will be announcing the complete 2010 schedule, along with all of its prime-time games sometime in mid-April. However, the league did manage to release its exhibition schedule.   Taking a closer look ...
March 28, 2010
The idea of Al Davis trading Nnamdi Asomugha and a second-round draft pick (No.39) for veteran QB Donovan McNabb isn't as far fetched as some experts suggest. ESPN "rumor monger" ...