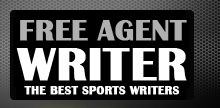 Yankee Addicts
Categories
Featured Sponsors
News published by
December 7, 2010
On Sunday, Dec. 5, the Pittsburgh Steelers went into Baltimore and took a hard-fought win from the Baltimore Ravens.  By now everyone is familiar with the ferocious nature of the ...
May 29, 2010
OK, Tony Soprano and Miami Dolphins head coach Tony Sparano are not exactly splitting images of one another, though they share eerily similar names. There is, however, notable resemblance between Phil ...
March 2, 2010
As the old saying goes, "What a difference a year makes."  Heading into the 2009 NFL season, fresh off of their unprecedented 6th Super Bowl trophy, Pittsburgh Steelers fans around the ...
February 16, 2010
There are few NFL QBs who are as polarizing as Ben Roethlisberger.  He seems to be a "love him or hate him" figure.  Those more prone to bring the man ...