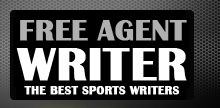 Yankee Addicts
Categories
Featured Sponsors
News published by
September 8, 2010
It's college and NFL football time and instead of just giving you my thoughts on the best picks of the week, I figured I'd invite Bleacher Report readers to join ...
July 21, 2010
Rachel Glandorf joined an exclusive club this past weekend when she married Cleveland Browns quarterback Colt McCoy. Just as we look to the QB to be the leader on the field, ...
July 6, 2010
It seems that Jessica Simpson may have finally abandoned the celebrity dating scene for someone who might actually make for a long-term mate. Simpson is reportedly dating former NFL tight end ...
July 6, 2010
Just when it seemed that the NFL may be ready to hand JaMarcus Russell a second chance, the opportunity was squandered. The former NFL Draft No. 1 pick was arrested Monday ...
June 14, 2010
An assault at a Dallas strip club is the definition of bad timing for Tennessee Titans' Vince Young, who, last season, engineered one of the better image rehabilitation projects the ...
May 27, 2010
Jeremy Shockey's reported trip to a hospital to treat seizures suffered during the New Orleans Saints minicamp is a reminder that teams must always have injury contingency plans. The tight end's ...
May 26, 2010
Say it isn't so, Jared. Apparently when Vikings defensive end Jared Allen went to Jared, the galleria for jewelry, he had to trade in his trademark mullet. Allen said he has shaved ...
May 21, 2010
The clock is ticking. The concept that Terrell Owens has not signed with a team yet is baffling. Other than Brett Favre's will-he-or-won't-he drama, the future of T.O. is the ...
May 7, 2010
One of the NFL's most revered legends is again in trouble with the law. Lawrence Taylor was in the midst of yet another post-retirement image rehabilitation after appearing on the hit ...
May 5, 2010
The big boys in the NFL high rises are negotiating the labor deal that could set the new standard for players getting paid. But what about today? There are a number ...