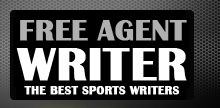 Yankee Addicts
Categories
Featured Sponsors
News published by
December 13, 2010
Mike Wallace, the Pittsburgh Steelers second-year wide receiver, is known for his explosive first step and his ability to maintain his speed throughout the play, but his average yards per ...
October 9, 2010
Finally, Ben Roethlisberger has returned to the Pittsburgh Steelers, and finally the Pittsburgh faithful will be able to watch an offensive series without grimacing. Now, any half-decent sports writer would ...
July 15, 2010
Fantasy football's almost here, sites are pumping out their rankings like a back-to-school sale and junkies have been putting their big boards together since the draft. Every team has one ...
June 26, 2010
We all know that Ben Roethlisberger has been, essentially, torn to pieces by not only the media, but by fans. And not just by opposing fans like he's ...
June 4, 2010
Well, I promised myself and a few other people that I'd get a position by position breakdown out before the preseason, and there's no time like the present, ...
May 27, 2010
Greg Koch was picked in the second round of the 1977 NFL draft by the Green Bay Packers, he was extremely athletic for an NFL lineman and had ...
May 15, 2010
Gone are the days of Bill Cowher in Pittsburgh—and with him the days of an unexpected play. No more passes from the wide receivers or the running backs, ...
May 9, 2010
It's inevitable in the NFL, sooner or later you're going to see a rookie have to step into the game and you hope and pray that the veterans and coaching ...
May 8, 2010
Limas Sweed is entering his third year as a member of the Pittsburgh Steelers organization. Through two years of seeing minimal playing time due to concentration issues and an intense ...
May 2, 2010
Before his suspension during the 2009 season, Dez Bryant was considered by many as the best wide receiver in college football, and was subsequently gift wrapped to the Dallas Cowboys ...