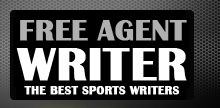 Yankee Addicts
Categories
Featured Sponsors
News published by
January 11, 2011
Rex Ryan's Jets survived the Wild Card round with a game-winning field goal against Peyton Manning and the Colts. Leading up to the Playoffs, the outspoken Ryan has called each ...
January 6, 2011
Super Bowl XLV is nearly a month away, and the playoffs are set. It's time to make the predictions that everyone will be talking about, and the upsets that no ...
January 1, 2011
The NFL Playoff picture is nearly clear, and there are certainly some surprises in the NFL this season. The winner of the NFC West could be a sub-.500 team and ...
January 1, 2011
With rumors looming of Brett Favre's pending retirement, the future Hall of Fame quarterback doesn't seem to be concerned.Yesterday, cameras caught him doing his dance impression of Vanilla Ice, set ...
December 17, 2010
The nation's leading rusher at the Running Back position is only a sophomore, and may stay in Eugene, so who is left? Is there any RB out there that can ...
August 6, 2010
Cue the opening credits for Brett Favre's silver screen biography. I can see it now: Matthew McConaughey dawning the Green and Gold, complete with southern accent and oddly-shaped (cityrag: Matthew McConaughey's little secret) ...
April 20, 2010
Many analysts have predicted the Oakland Raiders to select Jimmy Clausen, the junior quaterback of the Notre Dame Fighting Irish, with the 8th overall pick of the 2010 NFL, beginning ...