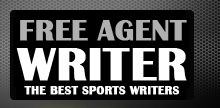 Yankee Addicts
Categories
Featured Sponsors
News published by
August 24, 2010
Pete Carroll has made an instant impact on the Seahawks this summer. The players are taking to his positive attitude and always compete philosophy. When Carroll spoke of improving the running ...
April 28, 2010
There is always going to be a transition period when changing coaching regimes. The past two seasons Seattle has undergone this change twice. The approach is drastically different. Will the results ...
March 19, 2010
Seattle has made their decision at quarterback. It is still going to be Hasselbeck under center to start 2010, but if they played their cards right, it will be ...
March 11, 2010
Pete Carroll begun his tenure in Seattle speaking highly of incumbent quarterback Matt Hasselbeck. While his tone hasn't changed, the actions by the organization seem to indicate that the future ...
March 3, 2010
For a school that used to produce NFL talent with regularity, the last Husky to be drafted was in 2007. This year the Huskies feature two eligible seniors who took ...