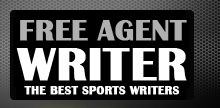 Yankee Addicts
Categories
Featured Sponsors
News published by
January 19, 2011
I just happened upon the list of candidates for NFL Rookie of the Year over at NFL.com, and much to my shock and dismay the Steelers Maurkice Pouncey is not ...
January 16, 2011
I've been sitting here watching all of the postgame interviews on NFL Network after the Steelers 31-24 victory over the Ravens to advance to their second AFC Championship game in ...
December 16, 2010
With three games remaining we are getting close to the end of the regular season and the beginning of the NFL playoffs. The Steelers are sitting on top of the ...
November 15, 2010
According to reports from ESPN's Adam Schefter, the Steelers will be bringing in some kickers tomorrow to compete for Jeff Reed's job. It's about time. Not that Mike Tomlin is a ...
November 10, 2010
Everyone recovered from last night's game? After almost blowing a 20 point lead, the Steelers hung on with a big defensive stop in the last minute to preserve a 27-21 ...
October 24, 2010
The Steelers walked out of Miami today with a 23-22 victory, but may have left one of its most important parts of the defense in the whirlpool. Defensive end Aaron ...
October 20, 2010
In the wake of this past weekend's hits by James Harrison, Dunta Robinson and Brandon Meriweather, the NFL levied a set of major fines totaling $175,000 for the three players over what were ...
October 13, 2010
Let's get something out of the way before we go too deep into the article. Odds are pretty high that the Cleveland Browns third string quarterback, Colt McCoy, is going ...
October 4, 2010
Week 4 of the NFL season has concluded with the Pittsburgh Steelers tied with the Baltimore Ravens atop the AFC North Division. Considering all of the offseason controversy with the ...